It took two years and many hundreds of miles to get there, but on Sunday 18 April I crossed the finish line of my marathon. I'm not sure what I expected it to be like, but it wasn't how I imagined it would go. If you can believe this – I think I quite enjoyed it.The day and hours before the race I was really nervous. Lazy Boy asked me what I was specifically nervous about and I couldn't answer it. All I knew was that I was nervous. I left my hotel room at 8.30am to go to the start and as soon as I got in the queue for the toilets my nervs started to subside. 15 minutes later the queue for the toilet still wasn't moving so I found a handy bush to go behind and the lined up waiting for the off.
The start was delayed by about 20 minutes and by the time the gun went off I think everyone in the field had gone from feelings of dread to being eager to get going. I didn't spot Lazy Boy who was dutifully waiting to see me cross the line, and he didn't see me but on later inspection of the video evidence it seems I ran straight past him.
For the first couple of miles a man dressed as Mr Potatohead ran behind me. I didn't see him but all I could hear as I ran along were spectators shouting 'Go on Mr Potatohead'. I'd put my name on my vest as advised by many a vetran marathon-runner so that the crowd would cheer me on by name – but Mr Potatohead was deflecting attention away from me and I'd need as much support as I could get. Luckily the weight of the costume allowed me to leave my starchy rival behind by mile 3.
I'd arranged to see Lazy Boy at mile 5, but the mile marker came and went with no familiar face to cheer me on. This added to not seeing him at the start threatened to get me down, but I fought hard not to get worked up about it and set off on my way out of Brighton along the coast.
The miles ticked by without any difficulty and I diligently took my SiS gels every 5 miles as planned. Around 9 miles I decided a toilet stop was in order, but the queues put me off. So I did as the men were and found an alternative spot. For me this was behind a skip and no sooner was a pulling up my shorts than five other women who had taken their cue from me joined me in the 'ladies room'.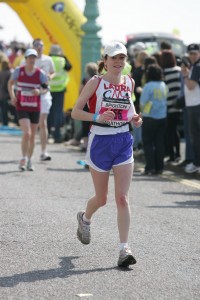 Not long after the route turned around and headed back into Brighton and I could see the pier and with it the half-way mark ahead of me. As I went through half-way (see pic) I was feeling good. Then I saw Lazy Boy and almost immediately my stride got quicker.
I'd decided that a 10-minute-mile pace was a good option. It was the speed I'd managed to maintain for my 18-mile run and hoped that I would be able to hold close to it for the whole 26.2. I didn't know what would happen after 18 miles but my aim was to finish in under 5 hours.
I didn't notice going past the 18-mile marker, which was probably a good thing. I'd run further than I'd run before without noticing it and by the time I got to 19 miles I'd seen a couple of friends and was feeling as good as I believe you can after running that far.
The route took us on a long slog out to a power station and it was difficult. Not being a local helped as I just kept running without knowing how far it was to the turnaround that would put me on the home straight. By this point I was passing quite a few people that were walking. If my first aim was to finish in under 5 hours, my second aim was not to walk a single step. I kept plodding on past the gorilla costume that wasn't a good idea on a 20C day.
I kept waiting to hit 'The Wall'. I'd heard it was strong possibility. But there was no wall for me, other than the physical one that the route organisers had erected at around 22 miles for us to run through. I was, however, getting a stomach ache and the bumbag I was wearing was pressing on my stomach with every step and making it worse. So what else was I to do but take it off and sling it over my shoulder like a handbag. I laughed to myself as I ran along. I'd read that Haile Gebrselassie (the current world-record holder) runs with one arm in an odd position because he used to run to school carrying his school books in that arm, and imagined that there was some affinity beween myself in the great man at that moment. In reality I probably looked like I do while running for the train clutching my handbag on the way to work.
Around mile 23 I could see the pier in the distance and that marked the finish. The crowd was thick on both sides with spectators who were loud in their support. It was like running through a tunnel, all I could see was the end and a blur of faces on both sides. I counted down the miles and told myself 'half an hour and it's all over', '20 minutes and you can stop', '15 minutes and that's it'. I wondered why I was doing it and I got emotional when I realised that I would make it. I fought back the tears because I didn't want the spectators to think I was in pain or not enjoying it because, as much as I wanted it to end, I was loving every minute. Someone shouted 'you can do it Laura' and I remember saying out loud to myself 'yes, I can do it'.
At mile 25 it was time to put my bumbag back on ready for my finishing picture. My speed picked up and the next thing I knew the sign saying '800m to go' appeared. From then on I was sprinting, I took off my hat ready to face the cameras and, overcome by the crowd shouting my name, I threw it into the crowd.
I crossed the finish line in 4 hours 31 minutes exhausted but elated. A volunteer grabbed hold of me, propped me up and walked me to get my medal. He kept talking to me telling me how great I'd done and all I kept saying was 'you've all been great, the supporters were great'. I don't know who he was, or what he looked like because I was looking around at everyone else, but his hug was much needed and to have someone to share that moment with was fantastic.
Thank you Brighton for the support – and thank you to the volunteer who welcomed me into the club of marathoners!
[/fusion_builder_column][/fusion_builder_row][/fusion_builder_container]