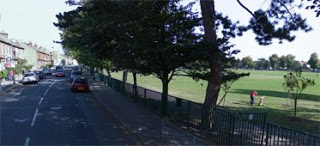 Last night saw my first post-marathon run – 3 miles around the streets of Wimbledon. It was good to be out in my trainers again. I had 21 days (or 3 weeks if you like) off after the Brighton Marathon and for me that meant complete rest other than a couple of cycles.
Some people take more, some people take less – but we're all different. The often quoted equation is one day's rest per mile you've raced but I definately think 26.2 days would have been too much for me. As it transpired, 21 days was perfect. It was such an odd feeling not to be tired, achey or in pain while running after all that I put myself through marathon training – my legs felt like I was running on clouds. So the good news is that my legs have totally recovered (if you don't count the four toenails that are still a fetching shade of purple). However, either I have lost a bit of fitness and the 3 miles I ran last night were through treacle.
I've got a local 10K race coming up in two weeks as a motivator for not letting me slip back to my old lazy ways. I was hoping to shave a massive chunk of my PB, but after last night's run I'd settle for a few hundreths of a second.
Now for the good news. If a new study is to believed marathon running is good for you. Tell that to my feet. Open-toe shoes are sadly a thing of the past for lazy girl. No sooner have I gotten excited about getting back into heels and the prospect of a bit of sun on the horizon than running has snatched away my dreams of flaunting my newly toned legs in some sky-high strappy sandles.
And finally…
I was asked by a reader about my longest run being 18 miles and if this was enough. For me, yes it was. I held the same pace throughout the whole 26.2 miles that I had held for all of my long runs – roughly 10 minute miling. But everyone is different. Some like the confidence boost that reaching 20 miles in training brings.
A friend of mine ran London Marathon (if you fancy it, here's how to get a place) the week after I did Brighton Marathon. He'd run a couple of 20-mile races and come in on track to go sub 4 hours at London. But on the day he ended up finishing slower than I did. Had he left his best runs in training and not left enough in the tank for the race itself? Who knows, but he was gutted.
The thing to remember is that running 18 miles takes a lot out of your body. Running 20 miles takes even more out of it. It's one thing to run that far but it's another to recover in time for your next long run or the race itself. As a first-time marathon runner I was advised to work on time on your feet rather than distance for your longest run and that this time on feet should be no longer than 3.5 hours. Anything more than that and you'll struggle to recover in time.