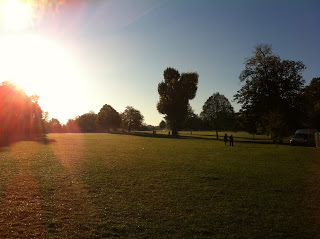 A crisp autumn morning is good for two things, staying in bed admiring the blue sky from the comfort of under the duvet or heading to the park for a race. I chose the later of those two things on Saturday and took my legs (still wearing shorts) for a 5k in Brockwell Park.
The ParkRun at Brockwell Park in South London were a friendly lot. I chatted to the race officials before we started who told me where the hills on the course were (kilometres 1-5 it turned out) and where the finish was.
Then we were off. It was the first proper chilly start I've had this autumn and the cold air hitting the back of my throat and filling my lungs made the first mile uncomfortable. Unsure where to place or how to pace myself I started ridiculously close to the front of the field and for the first 400m was the lead woman. I decided to count how many women went past me with the aim of letting no more than nine get by for a top 10 finish. As the first woman went past so did a man running in shoes, a shirt and formal trousers – apparently he's a regular and pretty quick too.
At mile one we were heading up the main hill for the first time. My thighs joined my lungs in burning with every step and then I started to need the toilet. A toilet stop behind a bush isn't uncommon for me during a race, but it might have been the first documented account of someone having to stop for the loo during a 5k. Luckily I'd trained for this specific eventuality a few weeks earlier when my flatmate was having a bath as I was about to head off on a 3-miler.
By the second lap two more women had gone past me. I remembered why I don't race 5Ks – because you have to run quick. No gossiping about boys in this race like I'd done for most of the half-marathon of the week before. Two more women ran past as we approached the hill for the second time and I could hear another close behind me. Though I hate running up hills, I'm not too bad at it so I knew I could keep women number six behind me and not let the one ahead get away.
As we reached the top of the hill the finish was in sight at the bottom, but my legs had nothing left for making the most of the downhill. I crossed the line having been overtaken by a lot of people but having given everything. My time 23:22, and I was the 6th woman home. It was a PB, but given that I've never run a timed 5K before, it was always going to be.
It was a challenging course, but a nice route round a lovely park. And as it's a ParkRun it's completely free and organised by very friendly volunteers. Find your local ParkRun and help support it by running and volunteering.