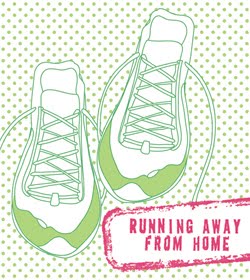 I've said goodbye to Hyde Park, I've said goodbye to the hashers and I've said a lot of tearful goodbyes to my friends and family. On Friday 4 November I'm off to Australia and South East Asia for four months on the next big adventure. It's a bit scary stuff but very exciting.
The first thing that I put in my backpack was my running shoes (not at all because they'll be at the bottom and therefore the least accessible). They're coming with me and I'll be running in new countries, blazing new trails and quite possibly getting a bit lost. After all, I have two spring UK marathons to get ready for.
The other thing that's coming with me is you lot! Don't expect me to be quiet just because I'm away from my desk. There will be plenty of down time for me to string together a few words and, what with it being quite hot where I'm going, a lot of opportunities for me to grow my collection of sweaty headshots.
As well as joining a few local hash runs while I'm overseas, I'll pick up a couple of races and maybe crash a running club or two. Are you in Australia? Tell me where I should be running? Tell me what races I should be doing or invite me to come train with your club.
So that you don't get fed up of hearing about how it's too hot to train down under while the temperature plummets in the UK and you pull on five layers of thermal running tights, I've got a couple of old friends who are both in training for spring marathons to keep you company. You can find out more about them on the guest bloggers page. Please make them feel welcome.