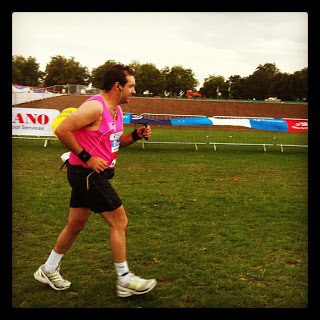 Guest blogger Mr Nice Guy updates us on his progress as he trains for the 2012 London Marathon.
So, just shy of two months to go until I take on the London Marathon and I've just completed my first 14 mile run. I know for you pros out there 14 miles sounds a little short but that's because, as I'm not exactly your typical long distance runner, I'm following the The Non-Runner's Marathon Trainer.
I used to come last at school in long distance running. I have, however, already done one marathon: the Robin Hood Marathon in Nottingham last September. My time was 6h20, but I suffered from chronic ITB pain from mile 17. This limited me to either a walk or a sprint and with 30mph head winds during the last 6 or so miles, sprinting didn't work out so well. But that hasn't put me off and I'm excited to be racing in London this spring.
So the aim for this Marathon? Strengthen my ITB and mussels so I can run/jog all the way round the sights of London, and have a good time of course!
I've not done any competitive races for training as sadly the social calendar has been very busy and I've probably only done an average of 2/3 runs per week because my ITB has been getting sore. But I've just purchased a foam roller and compression shorts which worked a treat for my 14 mile run. So upping the number of runs per week from now on looks like a realistic proposition. I do  have a half marathon penned in for 1st April, Paddock Wood, Kent. If you're on the sidelines and want to give me a cheer, or you're taking part too, let me know in the comments below and I'll give you my running number.
MrNiceGuy