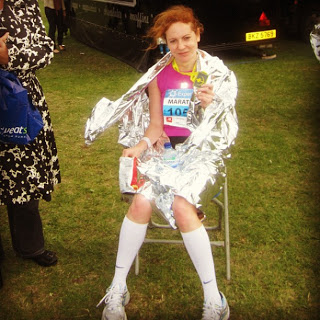 "Pick yourself up, dust yourself off, start all over again." Those are the wise words of another famous ginger – Ginger Rodgers sings them in Swing Time. But they're easier sung than done. How do you bounce back after failure and disappointment?
Last year I ran the Robin Hood Marathon in Nottingham. I wanted a sub-4 PB. I'd talked and written about how I was aiming to go sub-4, but the conditions on the day, bad pacing, injury and not enough preparation combined to make that a story to be continued.
There's been a five month pause in that story while I went away travelling. Marathons number three and four were booked and in the diary, and I eyed the dates nervously every so often. As I traveled I carried on running but on reduced mileage doing just enough to keep my legs ticking over. But now I'm back and it's time to start training again.
Putting failure to the back of the mind isn't the way to go. Learning from what I could have done better and accepting the things I couldn't have planned for is. But lacing up my trainers this weekend for the first long run of this marathon campaign was a nervous affair. Would I have lost fitness while I'd been away? What pace should I go out at? Would I need to stop?
Luckily I had company in the shape of my dad who came with me on his bike (and wearing my 'small' London Marathon reject jacket – those sizes really need sorting out). As I shouted out my mile times we breezed through 10.5 miles to do a negative spilt and end up coming home at a net sub-2 half marathon pace. There's a long way to go before I go sub-4 – but I know it will happen because now I know what it takes. I'm ready to start all over again and write the next chapter.