Like running? Like music? Ever wondered what it would be like to run 13.1 miles through a music festival? Then enter this giveaway and you could win two places in the first ever Rock 'n' Roll Edinburgh Half Marathon on Sunday 15 April.
The kind people at the Rock 'n' Roll Edinburgh Half Marathon have given me two places to give away for one lucky winner and their friend.
The music line-up has just been announced and Indie band Kassidy will be headlining the event's post-race concert with a host of up-and-coming bands performing at mile points along the course to keep runners entertained. 
Hitchcock Blonde, Millsyeck, Homework, The Detours, Red 2 Red, Japan Four, Cow Cow Boogie, Jacky Forty Feet, The Deadly Winters, Robbie Reay and The Killer Cats, The Asps, hip hop act and Mobo Unsung nominee Stanley Odd and American indie band Dolalay.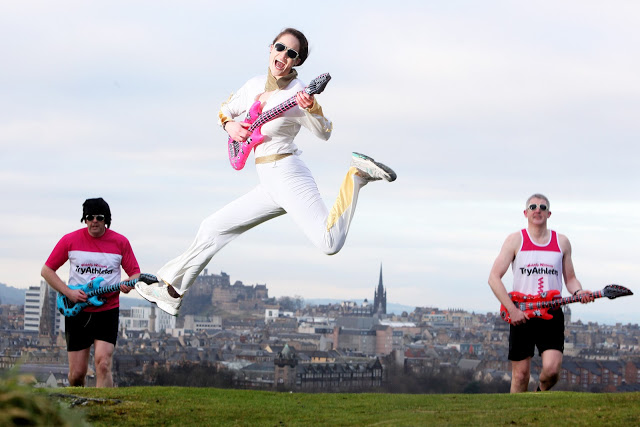 The route takes you past some of Edinburgh's most scenic views including the Meadows, the Mound, the Queen's Palace at Holyrood, and the Scottish Parliament building. The final stretch travels down the Royal Mile with a glimpse of Arthur's Seat in the background. Runners will also enjoy views of Edinburgh Castle while running throughout the city centre, and the Firth of Forth as they pass along the seaside stretch on Portobello Promenade.


How to win
If you want to enter, stick your name in the comments box below, tweet me or email me (address on my 'About' page) and tell me this: If you were a rock band, what would your name be? Mine would be Whitesneakers – or maybe Bon Joggie. Get it? Come on, you can do better. Enter by 2pm on Tuesday 20 March and I'll announce the winner later that day.
To find out more about the Rock 'n' Roll Edinburgh Half Marathon visit their website here, or go to their Facebook page. Good luck people!