They're a demanding bunch the gods of the marathon. Not content with taking your weekends, your sofa time and your money they demand more. This weekend I've prayed at the marathon altar and made two significant sacrifices in the hope of marathon glory.
Friday night, it was time for a new pair of heels. But black toe nails and open toe shoes don't mix. I've sacrificed, if not pretty feet then, less hideous feet for these hooves. We're currently at four black toenails, and they're not the little ones that are tucked away out of sight but the big ones right there in the front.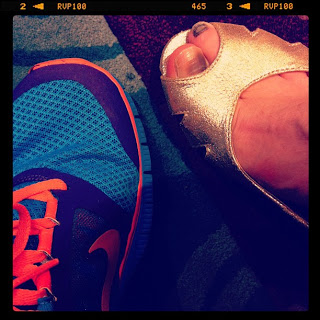 Saturday I had a hen party. It, like a lot of hen parties, involved a lot of alcohol and a lot of dancing in (non-open-toe) heels. Needless to say, Sunday was sacrificed to the hangover gods, which made the marathon gods angry. We're talking thunderbolt and lightening sort of mad. So today the final sacrifice was made in the name of marathon glory: no more alcohol! This three week taper could get boring.