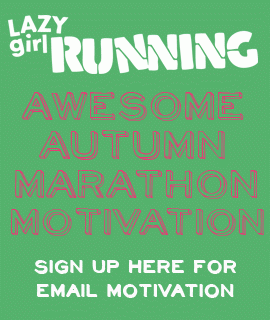 Running a half or full marathon this Autumn or thinking about it? Want some company training and an extra kick up the backside when it gets tough? Well step this way because I've got something you might just like…
This October I'll be doing the Venice Marathon; whatever race you're doing this autumn you can train with me virtually. All you have to do is sign-up for my Awesome Autumn Marathon Motivation email. You'll get an email from me once a week kicking your ass to run and sharing tips – I'll be like your sweaty fairy godmother.
Some people describe me as bossy, I prefer to call it 'motivation'. I've hounded MrNiceGuy (one of the laziest people I know) into running two marathons now and I'm already working on getting him to sign-up for the third. I've encouraged many a friend to take up running and even got them to do a race or two.
I'm not an Olympic athlete, or a personal trainer nor am I a coach, I'm just an average person who once couldn't run a mile but has now done four marathons and who remembers how hard it can be, especially when life gets in the way. 
So if you want to join me, CLICK HERE to sign up. It's free and I promise not to send you any spammy adverts or pass on your details to anyone.