It's 5:30am on a Sunday morning. I've got a number scrawled on my hand and a bad feeling in my stomach. It's just like the good old days. Except I'm getting up instead of going to bed and the number on my hand is only three digits long. 282, my number for my first ever triathlon.At 8:10 I lower myself into the Great Ouse river. My hands are cold but the rest of my body is warm enough. The water is 12C, another important number. Half a degree lower and our swim would have been shortened to 400m. I'm not sure which situation I'd prefer. A horn sounds and my wave of 57 women start swimming.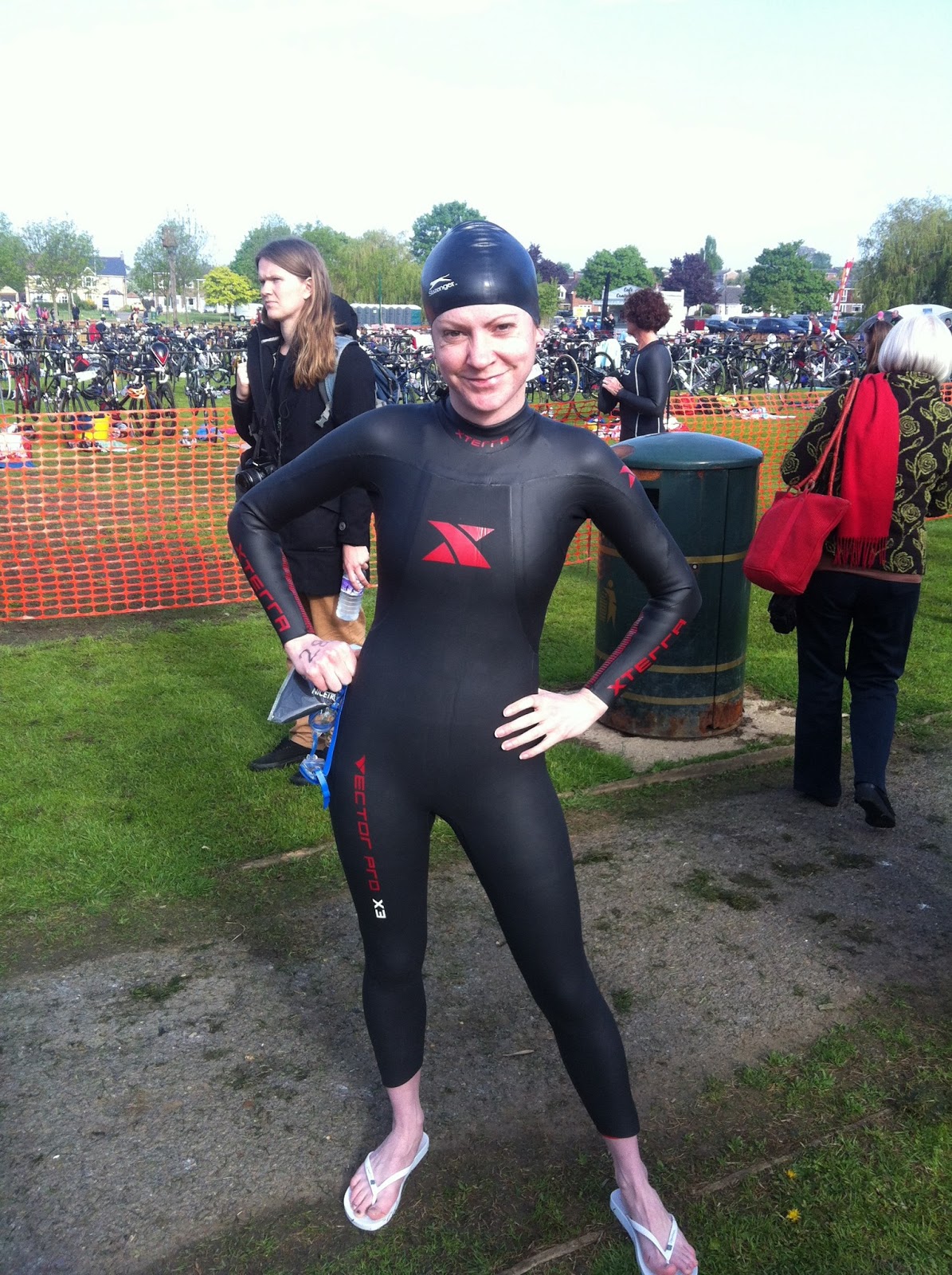 Despite my fear of the swim I'd stayed calm and not nervous in the day and hours before. I let the pack head off before starting to swim and I stayed close to the bank. Too close. After about 50 meters I got weeds in my mouth. This threw me – this doesn't happen down Kentish Town pool. I pulled them out and tried to carry on swimming but my stroke was all wonky and wrong.
My mum, dad and friend Helen were walking along the bank next to me cheering me on. I thought how concerned they must be that it didn't look like it was going terribly well. My dad would be considering taking off his shoes and rolling up his trouser legs ready to leap in and save me.
I was still too close to the bank and my hands were getting caught in the weeds as I tried to pull through the water, but I was worried about going deeper. Soon I would have no choice. The turnaround buoy appeared faster than it should have thanks to the outward swim being with the flow of the river. I crossed over and hoped.
In the deeper water my stroke got better. I was swimming slightly lopsided as I was breathing on one side and not rolling my hips fully, but it looked more like swimming than splashing. My confidence grew and I even passed another swimmer. One of the canoe club who were patrolling the swim pulled another swimmer out of the water, but I carried on.
Despite almost swimming into a boat parked at the side, the upstream swim went better. If I'd managed to swim in a straight line, I might even have looked like I knew what I was doing. I approached the last buoy and swam into (literally) a man from the wave ahead. 10 more meters and it was over – two hands helped pull me up the bank and I staggered towards transition.
The transition area was empty and I was a bit delirious from the swim – maybe it was the cold or the exhaustion or the delight at having survived. I pulled off my wetsuit in a PB time, put my bike kit on and headed towards the bike course.
Helen had driven me round the 14 mile (slightly longer than standard sprint) bike course the day before which had helped me familiarise myself with where I had to turn left. This was lucky because by the time I got on my bike there was nobody around to follow. After a mile the guy I'd overtaken on the swim came zooming past me on his bike. I was eating my Snickers bar at the time.
I pedaled fast but with nobody around to get competitive with I had to just do my own thing and try to keep the tempo up. My legs moaned but the countryside roads were nice, I cycled past fields of oil seed rape, saw a hare hopping across a field and a snowy owl circled overhead. It was a route that wanted me to slow down and enjoy it, not tear through it.
With a third of the course to go another woman overtook me. I tried to keep her in sight but she lost me on a couple of the small hills. Then as we turned back to the town I saw another woman ahead of me and I made it my goal to overtake her before the bike was complete. I passed her with a few hundred meters to go only for her to run off out of transition before me.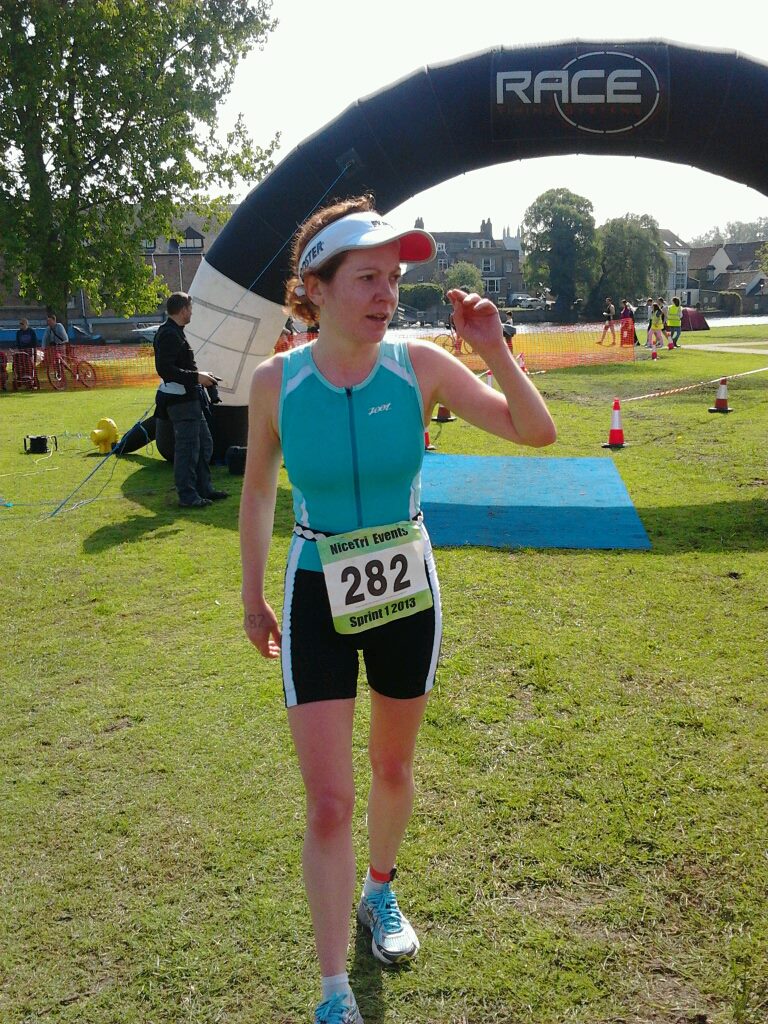 The run was the part of the race I was looking forward to and the bit that I could legitimately call a 'race'. But it didn't go to plan. My feet were numb from getting cold in the river and not warming up on the bike. I overtook the woman I'd just passed on the bike. There were more people ahead of me but the run was a two-lap course so I couldn't tell if they were on their first or second lap. I ran passed them all the same and pressed on wanting it to be over.
Breathing wise I was fine and I didn't get the lungs in mouth feeling that's usual on a 5k, but my legs felt like lead.As I headed out for the second lap of the park there was nobody left to pass. I counted down in my head to the finish and crossed the line.
I'd started the race with three goals: don't drown on the swim, don't fall off the bike and complete it. No time goal had been on the list and I hadn't even worn a watch. I wanted to do the 5k in under 25 minutes, and as a rough estimate I thought the bike would take around 1:10 – but as I don't cycle at top speed, only commuting to and from work, it was difficult to judge.
I printed out my results and was very pleased with the number that popped up – 1:54:52.
Swim: 24:36, Bike: 1:01:58, Run: 22:58.