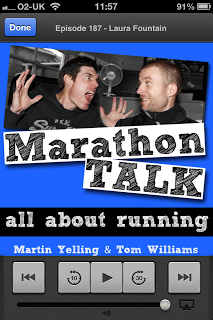 If you don't already listen to the Marathon Talk podcast you should. And you should definitely listen to this week's show.
BECAUSE I'M ON IT!Martin and Tom invited me on to talk about my experience of going from not being about to run AT ALL to getting my Good For Age qualification and lots of other stuff in between.
So if you'd like me to keep you company on your run, download the podcast! or you can listen online.Just ignore the bit where I say I could maybe, probably run a 5 minute mile if I tried. I was still overexcited from finishing a 100 mile cycle.