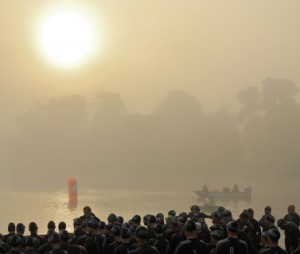 The short answer to this question is 70.3 miles (or 113.13 kilometres if you like your measurements in metric. But I order pints of beer after a race and it therefore makes sense that all units that happen before that point should come in Imperial measurements too).
That 70.3 is made up of, in this order, a 1900m swim (ok that's metric), a 56 mile cycle and a half-marathon (13.1 miles). But what does that really mean in real terms? Luckily, I've got some real-world examples to help make things a bit clearer.
1.9km swim
That's the length of 19 football pitches, 190 London buses or 76 lengths of your local pool. Personally I'll find imagining overtaking 190 buses stuck in a traffic jam as I swim along much more motivating that ticking it off as laps of the pool.
56 mile cycle
Further than cycling the length of Luxembourg (51 miles). That's the country, not the city. I don't know much about Luxembourg but according to Wikipedia 'Luxembourg sells the most alcohol in Europe per capita.' I think I'd like it in Luxembourg, but there's high chance of me falling off my bike there. Apparently Luxembourg doesn't have a national sport. I'm going to suggest it adopts triathlons but maybe doesn't go in for the full iron distance.
13.1 mile run
This is the same as the entire length of London Underground's Victoria Line from Walthamstow Central to Brixton. And on some days you'd be better off doing it by foot. Now, what was I saying about the lack of half-marathons in London.
So that's what I'll be doing next Sunday as I take on the Gauntlet Triathlon at Hever Castle: swimming past 190 buses, cycling the length of Luxembourg (and then some), and running the whole of the Victoria line. When I put it like that, it sounds pretty far.