Just four miles into the race I laid on the floor looking up at the sky. Seconds earlier I had been running along, following a thin trail of runners ahead of me, trying to keep up and keep them in sight so as not lose my way. I turned a corner, slipped on some ice and came down heavy onto the road surface below.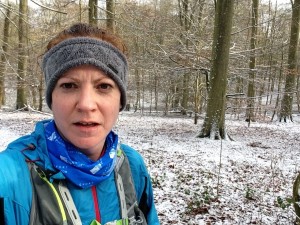 Two runners came up behind me as I slowly made my way to my feet. My right wrist, hip and knee had shared the impact between them, each hurt but not too much. It was only four miles back to the start, and nearly 40 to the finish, but I didn't want to turn back.
"Watch out for the ice", I called back to the runners approaching. One skidded round the corner but remained upright. I told them I'd just taken a tumble, they asked if I was OK to carry on and together we walked up a hill, through some trees.
That morning I'd been quite chilled out about the race. I wasn't scared and pre-race nerves were barely noticeable. I'd got the train with some brilliant women with some serious ultra running experience under their belts: Cat Simpson who came second in a week-long race across the Atacama Desert; Sorrell Walsh who won the Race to the Stones 100k last summer and Louise who clocked up a 100 mile race not so long ago. Steph, sat next to me, nervous about taking on her first ultra too.  She had no reason to be – she was well prepared and finished well up the women's field.
There'd been a lot of worries shared at the start about getting lost. We were all handed a map at the registration that we hoped we wouldn't need, intending to navigate the route through a method of 'follow-the leader'. As the countdown to the start began, snow started to fall and then we were off.
For the first few miles my calf muscles complained. 'It's cold', I thought, 'they'll warm up'. There's one thing I know about taking on long distance events, and that is that a lot can change and how you're feeling now isn't how you'll feel in an hour's time.
I spent miles four to 15 running running with the two guys who'd joined me after my fall. We ran across a field where the snow came down in massive flakes that seemed too big to be real and began settling on the ground, turning everything white. We waited in line to cross a river via some stepping stones, them both getting a wet foot in the process. They told me about all the ultras they've done and hope to do this year and I decided I'd try to stick with them as long as possible before I got tired.
Half a mile before the second checkpoint a huge puddle covered the road we were running down. I didn't want to get wet feet, so I followed another runner on a diversion through a hedge and some trees before climbing back over a hedge the other side of the puddle. One of my new friends went through the puddle, sprained his ankle on a pothole and had to withdraw at the checkpoint.
The next few miles were a blur of running with different people. Everyone was keen to get to the canal where the navigation part of the race would be over and we could just follow the towpath into London and the finish. We crossed the M25 and had the sense that London was getting closer. Not long after we saw a London bus on its way to Ruislip which drew a small whoop from some of the runners I was following.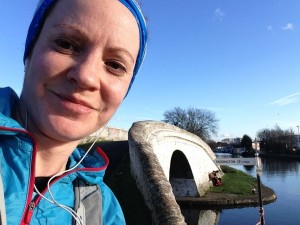 As we finally hit the canal, the small packs we'd been running in to avoid getting lost began to spread out and I was running on my own. Checkpoint three at around 25.5 miles arrived and I texted my friends who'd planned to come to the finish to reassess my finish time. I still had a long way to go, but 10 hours was looking like a worst case scenario. I ate a sandwich, took some paracetamol and plugged in my headphones ready to run further than I had before.
At 30 miles I smiled to myself that, whatever happened now, I was into ultra territory. My legs felt good and, like the rest of the day, I let them do their own thing, not really thinking about pace. My hip and knee had stopped hurting and being on the flat of the canal made the pace quicker.
I'd been warned by several runners who'd done the race before to look out for the white bridge and the sign that pointed to Paddington. It was the only part in the second half where it's possible to get lost. When it arrived, the 13.5 miles to Paddington gave me a boost – I was going to make it. From here on my pace quickened. I forced myself to walk, sometimes for 10 seconds sometimes 30, every time my watch beeped to indicate another mile gone, which broke up the monotony of the canal.
I overtook a few runners, one woman called out to me "You're going to break 10 hours" and it wasn't until I was a few hundred meters down the path that I realised she must have known me and my over-estimation from here (sorry I didn't stop, and nice to meet you briefly).
With 'Let it go' from Frozen blaring in my ears, I turned a bend on the canal and could see the London skyline.  The Shard, the BT Tower and the Trellick Tower at Paddington all looked close enough to touch. I felt a bit emotional that it was all going to be over very soon. And then it was.
I finished in 7 hours 39 minutes, much faster than I'd anticipated and without ever wishing it to be over. I had a great day. I collected my medal and joined up with the others in the pub for a few pints to celebrate.
Here's the Strava data if that's your bag.