Despite looking forward to it for a while, I couldn't make the inaugural North London Half Marathon (illness and schedule clash), so I dispatched Phil instead. Here's how he got on.
What young boy has not dreamt of running out onto the Wembley pitch, pulling out his mobile phone and taking a sweaty selfie of a gurning loon with a mouthful of homemade energy balls?
There's not one I tell you. That part of the North London Half was undoubtedly the highlight for me and is a major selling point for this new race.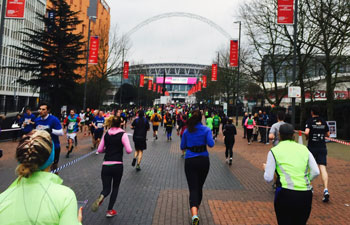 Not that I was sure that my trot up Wembley Way would end inside the stadium. I'd discussed it with a fellow runner at work and speculated we might be running around the outside. Looking at the race guide in writing this blog, it is mentioned casually in a description of miles 5 – 7.
If I was marketing the race I'd have put YOU GET TO RUN ACROSS THE PITCH AT WEMBLEY!!$$@?! in the subject line of every email.
But this made it a lovely surprise. After five miles, I loop my way towards the stadium and start to hear drumming. The route takes me down into the underground car park and, as I descend, I imagine the England team coach pulling in here on match days. Electronic beeps sound all around as watches lose their GPS and the light becomes dimmer. Turning a corner I see a large group of drummers bouncing their beats off the walls and forcing the rhythm through my body. A patch of light ahead marks the entrance to the stadium and then I'm running onto the pitch. Time for that selfie.
The race started at another stadium, the Allianz Park in Mill Hill, home of Saracens rugby union team. I cycled 8 miles there as transport seemed a bit tricky (and proved to be when leaving by the accounts of fellow runners). I locked up at the bike stands at the nearby leisure centre.
The run started at 9.30 and the race village was in the usual pre-event nervous state when I walked in at 9.00. Queues for toilets were stretching out, charity flags were swirling in the wind and there was a serious amount of milling about. A friendly steward stopped me in mid-mill and pointed out the bag drop. Big queues here, but 15 minutes later it was just me, my mobile and my energy balls.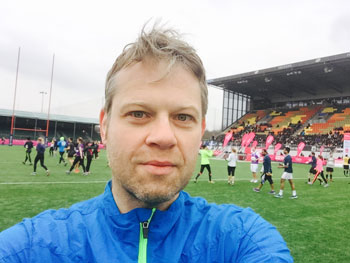 Allianz Park is set in some parkland and trees, so many fellow runners and I stopped off there for the pre race wee as time was ticking. The race announcements drifted over as we waited, including the unmistakable tones of Mo Farah wishing us all luck. I was near the 2.15 mark and it was a short while before we started shuffling off, I jogged through the start at 9.40 and we were off.
The course is not very picturesque. It winds through the main thoroughfares that surround north London. If it was not a closed road event you would be killed by a car in about 13.1 seconds. Another aspect of the route is the naughty hills. Turning a corner around 3 miles there is a long stretch of road topped by a hill that caused more cursing around me than when I pulled off my nipple tape after the Hurden 18-miler. I shared a laugh with a guy wearing a Dublin Marathon shirt about choosing a race without hills next time (NB Dublin is hilly to be sure).
There is support on the route, mainly the curious popping out of their houses to wonder at the sweating beast, but all welcome nonetheless. The finish is back at Saracens HQ and I got to run on another pitch to cross the line and collect my medal.
Conclusion
Like many first time races (Hello Hampton Court half I am looking at you) there are some teething problems. The bag drop was a bit of a mess, busy beforehand, but chaotic afterwards with runners getting very cold and queuing up to 30mins for their belongings. The race pens could be bigger at the start as well.
The route is not very pretty and has some bouncy hills. For me, running across Wembley was a major plus and will be my defining memory. It's not really a PB course, but it is a good trot out for the many people who are in training for marathons at this time of year. I might hesitate to suggest it as a first time half marathon course, unless you are unlikely to do another and want the fun of being part of a sporting event inside England's most famous stadium.