Training for running (and cycling and swimming) can be a bit lonely if you let it. I'm a member of a lovely running club and I proudly wear my club vest at a lot of the races I do. But sometimes, instead of the red and yellow colours of my club, I wear the vomiting unicorn t-shirt of my team.
A team, to me, is different to a club. A team comes together for the same event. They have the same mission and the same goal. We're not bound by geography – we live all over the country (and even have one in Germany). And we're not jealous, you can be in other teams and other clubs.
I chat, pretty much daily, with the other women in Team Rainbow over whatsapp – mainly light-hearted jokes about running, and food and wetsuits and farting. They make me laugh, make me want to enter races and make me go out for a run when I don't always feel like it.
On Sunday I ran the Regent's Park 10k with Team Rainbow team mate Cathy while Laura S, who'd been doing her long run round the park, took some photos of us.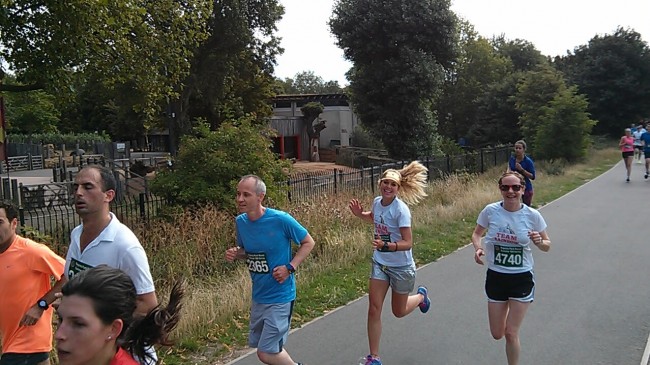 (Another rule of being in a team is you have to run in sync with each other – it's taken us years to get this right.)
Them we all went for breakfast and talked about running and food and wetsuits and farting in real life for a bit.
Team Rainbow started as a bit of fun and an excuse to print a puking unicorn on a t-shirt. But three years later I'm really glad that I've got a bunch of brilliant, funny, supportive women like this in my life who like doing silly and challenging things.
By a random turn of events, and much "Go on, go on" over text and email, five of us will be doing the London Triathlon on Saturday. We're all in various states of readiness and all doing different lengths, but I'm looking forward to racing with them and giving them a cheer as they whizz past me on the bike course. I'm doing the Olympic distance and, although it won't be as fast as last year's Oly tri, I'm hoping to have a nice day out in my wetsuit, on my bike and in my running shoes.
Also competing at the London Tri on Sunday will be another team: Team Tricurious. Katie and I put this team together earlier this year and it's made up of six novice triathletes who'll be doing their first triathlon. It's been great seeing them support each other in the build up to the event and following their journeys. You can read the blogs they've been writing about it here.
I've said it before: surround yourself with awesome people and it will start to wear off on you.