A new kind of nervousness came over me the night before London Triathlon. I wasn't concerned about my own race. I'm in the middle of marathon training and at points I thought I might not make the start of the Olympic distance tri at all, which ruled out the question of going fast and took the pressure off.
What made me tense the night before was feeling responsible for the team of novice triathletes who were about to embark on the race. I wasn't worried that they wouldn't complete it – I knew they could all do it – but I wanted them to have a good race day and enjoy triathlon.
Several months ago, Katie and I recruited a team of people who'd never done a triathlon before but who thought it might be fun to give it a go. We've helped them through their training when needed, but mostly we've stepped back while they've supported each other through the highs and lows of preparing for a triathlon.
On the morning of the race we were there bright and early to zip Becca into her wetsuit and wave her off to her swim start. We racked our own bikes and found Kat who was starting in the same Olympic wave as me. Kat and I put on our wetsuits and before we knew it we were starting our race.
Two years ago I'd done my first Olympic triathlon, swallowing a lot of water, stopping every 10 meters out of breath or scared by something brushing against my leg and emerging from the Thames in last place. Saturday was a very different race. I swam round with my biggest concern being that my goggles might be a bit leaky and that I'd stood on the jetty very close to someone who had rather long toenails and I hoped that they weren't the feet getting rather close to my face.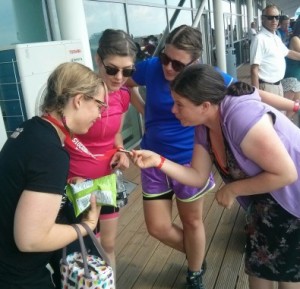 The Olympic distance swim was two laps. I pottered round without any drama, enjoyed swimming somewhere new and wondered how the rest of the team were getting on. As it turns out, more of them had arrived for their later waves and were somewhere overhead congratulating Becca who had finished already.
I exited the swim and got on my bike for navigate four laps of the cycle. I knew that Katie was setting off half an hour after me. I know that Katie is a better swimmer than me, and much faster on the bike so I idly wondered how long it would take before she'd come flying past me.
On my second lap, along closed duel carriageways and over a bridge, I heard someone shout my name and there she was heading in the opposite direction. I spotted her twice more, saw my cheering crew a few times and saw my friend Cathy also out on the bike.
I got off my bike having enjoyed the cycle leg and without my bum or anything else hurting – a bit of a first for me in triathlons. And put on my running shoes.
I'd needed a wee since exiting the swim and spent the first lap of the run running almost with my legs crossed. Katie caught me in the first few hundred meters and we ran along chatting for half a lap before she waved me on ahead. We'd run four 2.5k laps in total giving us lots of opportunities to wave and high-five each other along with Cathy and Kat too. At the end of the first lap I spied a portaloo that was designated for the medical team, but they took pitty on me and let me use it. I bolted back out and ran past Katie again shouting 'I found a looooooo!' over my shoulder.
On the last lap of the run I could see a familiar gold visor up ahead and ran a bit faster to catch it up. It was Kat from our team and we ran together for the last few hundred meters, up a ramp and down the red carpet to the finish line. We were handed a medal and a beer and waited for Katie.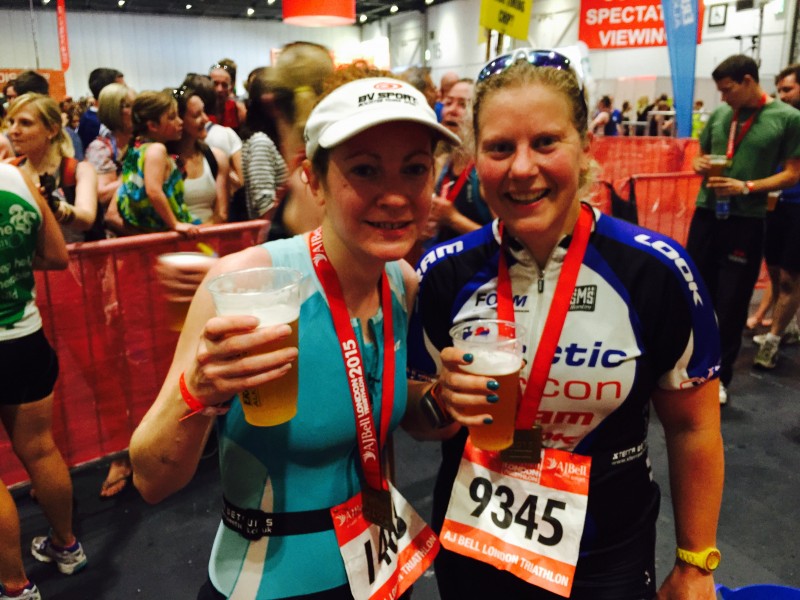 We headed off to find the rest of the team. We shared stories, ate cake and cheered on every last competitor. Most importantly, the team all brandished a medal, a beer and massive smile that said there was nothing to worry about.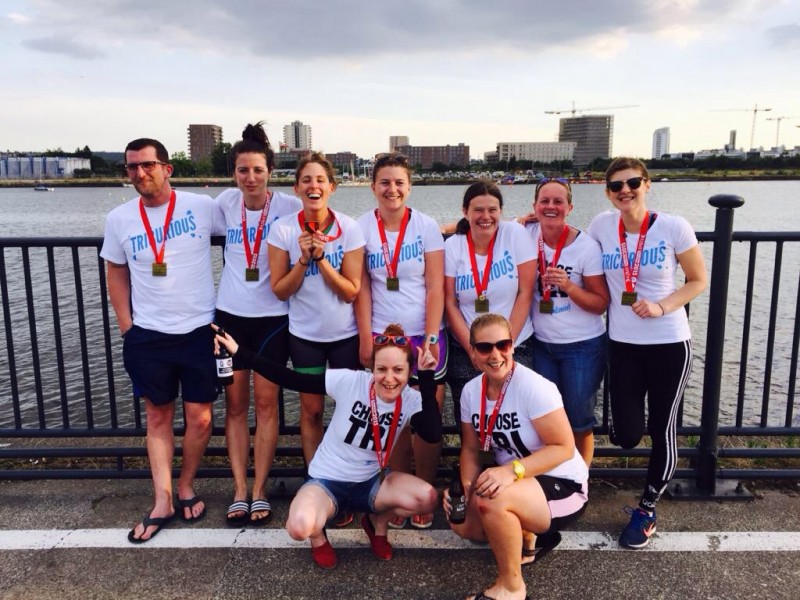 Well done team! You're all amazing.