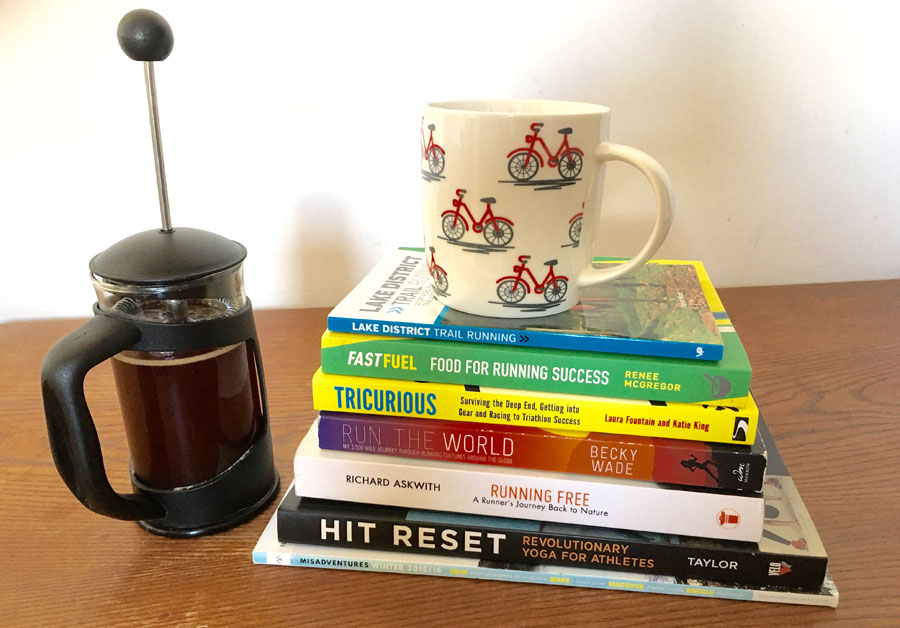 I've been meaning to round-up some books I've been reading this year for a while. And as the end of the year is fast approaching, there's no time like now.
They're not all new books, some of them have been out a while but I've only just got round to reading them (I'm a quicker writer than I am reader), but they're kind of timeless. If you're looking for a gift for a runner, then they might just do the trick.
Hit Reset – Erin Taylor
Ah, yoga! We all know we should do a bit to help our running, but finding time to go to a class is difficult and (often) expensive. Here come Erin to the rescue.
Rather than a prescriptive routine to follow, Erin's book is all about giving you the tools to do what's right for you; to find any imbalances you have and address them. So if you only have 5 minutes, you can use those to focus on the areas that will make a difference to your body.
Fast Fuel: Food For Running Success – Renee McGregor
I don't eat meat, do occasionally eat fish but don't eat eggs. Yeah, I'm an anomaly. So when it comes to books about food, I generally go for 'vegetarian' specific books because I find myself skipping all the info or recipes about meat. I was sent this book by the publishers though, and I've found it interesting.
Renee is a sports nutritionist who has worked with Olympic athletes. She knows what she's talking about and is well qualified to give out nutritional advice. The first half of the book explains the basics of fueling your body for training and recovery and offers meal plan suggestions. There's 5 pages dedicated to specific info for vegetarian and vegan athletes and an interesting 2 pages on the female hormone cycle.
The second half of the book is dedicated to recipes, about half of which are vegetarian, though I'd personally like to have seen more vegetarian main meals.
Find a Way – Diana Nyad
My friend Liz bought be this last year. I have the hardback issue but it's not out in paperback wich is easier to lug around. Diana Nyad is a swimmer that hopefully you've heard of, possibly through her TED talks. She swam from Cuba to Florida without a shark cage. The important part of her story isn't that she did that though, it's that she failed several times and kept trying. She didn't give up on her dream. She also went through a lot of horrible personal stuff in her life. It's a powerful story.
Run The World – Becky Wade
I was sent this by the publishers and have been reading it on and off. Becky is a college athlete in the US who gets a travel bursary to spend a year travelling the world to visit various running communities. She travels to London during the 2012 Olympics, visits Ireland then hits up some of the obvious sites for running pilgrimages: Ethiopia, Japan, the Swiss Alps, as well as some less obvious.
Becky has a nice, easy style of writing and you get a sense of the people she meets on her travels. She's also interested in food, so each chapter ends with a recipe from the culture and runners that she has encountered.
Lake District Trail Running – Helen Mort
I was sent this just before heading off to the Lake District back in September. Handily it had a route in Coniston that I was able to follow for a run. But because it offers routes all over the Lake District, there was only one route for the area I was staying. So the next day I bought a £3 guide from the local shop with five Coniston routes to follow.
It's a nice overview if you're visiting more than one area and has nice pictures, but at £12.95 for 100-page book that carries adverts, I thought it was expensive.
Misadventures magazine
OK, not technically a book. Misadventures is a magazine 'for adventurous women'. I bought a subscription from issue one because I really want to support it and hope it does well. It's really refreshing to read a magazine for active women that is fully about doing stuff and enjoying it. There's no talk about bodies and how they look and how to make them smaller or any of that stuff.
Tricurious – Katie King and Laura Fountain (me!)
It's my list and I'll include my book if I want to! You should totally get Tricurious for a that friend who wants to do their first triathlon or ironman next year. Because my co-author Katie King has some great advice for them, and they can read my bits and think 'at least I won't be as bad at it as her'.