Luton Half Marathon – the surprise race of 2019
For 12 weeks I ticked off the runs on my training plan, with a little readjustment here and there and a lot of juggling to make them happen. I got up early during the heatwave, and I headed out after dark as the nights drew in.
Each run moved me closer to my goal of running a half-marathon PB this autumn, and more specifically to doing that at the Great Eastern Run in Peterborough. But that didn't happen. Not, for once, because of any failing on my part. The race was cancelled as we stood in the rain and a muddy field at the start.
After half an hour of getting colder, I was relieved more than annoyed when the announcement finally came over the tannoy. My partner and I set off to run home to my parents', we needed to get warm and had no other way back than on foot.
I needed to run off the pent up energy and, if I was going to run a half marathon this autumn, I needed to make today a training run. But by the time I got back to a hot shower and cup of tea, 8 miles later, I'd decided I didn't want to do another half.
Choose Luton
In the week that followed I changed my mind several times over and finally hit enter on the Love Luton Half Marathon. I'd looked at many, many races, and even tweeted a list of options for others who'd missed out on running at the Great Eastern.
It surprised me that I was drawn to Luton. It's course wasn't a PB course. It was lumpy to say the least and hilly by some previous runners' reports. But the more I read the more I wanted in. I wanted to run a half marathon, I wanted closure to this training cycle and a PB didn't matter so much any more.
I was choosing a race that would guarantee I had no chances of running 1:39, and I think that was the main draw. It took the pressure off. I could turn up and focus on running my best on the day and the course in front of me, regardless of what that translated to on the clock.
Fasten your seatbelts
The weather was perfect for racing: bright and sunny but cool enough to need a warm top until the very last minute before we started. I watched the 10k start and then we huddled on the athletics track ready for our turn.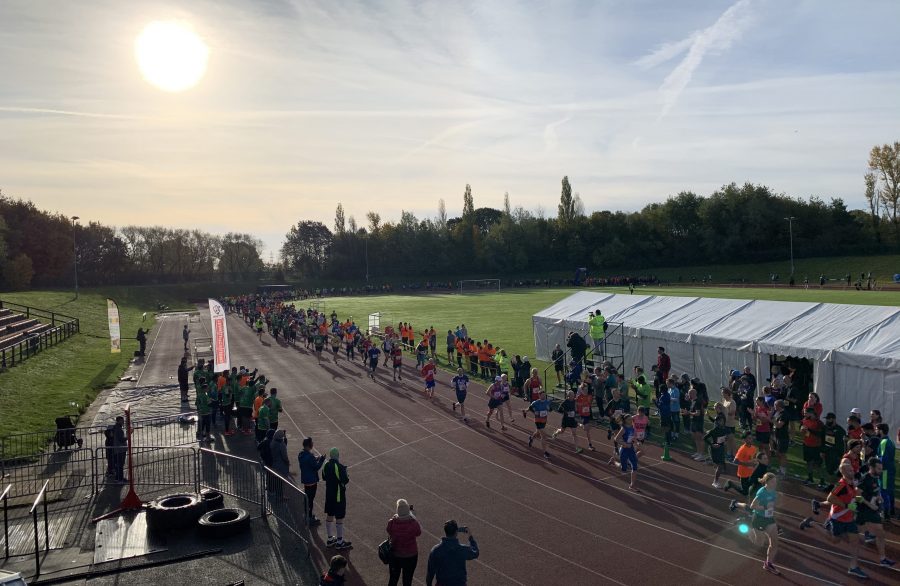 It was a small field of around 500 finishers (135 of them women) in the half. I was stood scarily close to the front having asked those around me what time they were planning to run. The first 200m was on the track and then we were off into a park and then onto closed roads.
I saw a 1:35 pacer ahead of me and backed off. I hadn't expected there to be pacers given the size of the race. Then the 1:40 pacer came past me and I decided I'd see how long I could keep him in sight, knowing that I wouldn't finish ahead of him.
After the first mile we hit a long downhill and I found myself passing the 1:40 pacer, only for him to come past me again on the immediate uphill climb. I was running to effort and I guessed he was planning to run an even pace throughout, which is a difficult way to run if you're pushing yourself over a hilly course. I let him disappear.
Luton Hoo?
I only really know Luton from visits to the airport. So when we headed into the grounds of a stately home – Luton Hoo – it was a nice surprise. Other than the fact that it was on top of a big hill that we would run up and down both sides of. But the grounds gave us miles of quiet and we didn't exit the park until 7 miles.
I'd been told by the reviews I'd read and the people I spoke to on the course, that the second half was a lot easier gradient wise than the first, so it was a relief to be heading back into town.
I'd counted that there were around 11 women ahead of me on and out-and-back at 5 miles, so I hoped I could push on and make it into the top 10.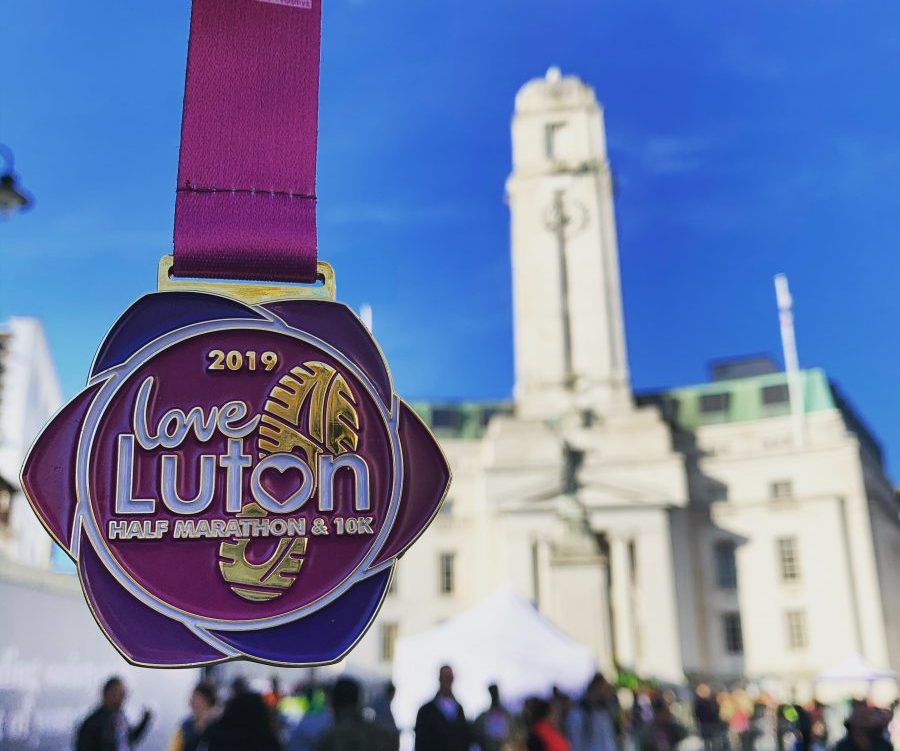 From around half-way I found myself steadily overtaking other runners. We were heading into a bit of a breeze as we ran into town and I'd creep up behind a runner planning to use them to block the wind, but then keep pushing past them. It's a good feeling, especially in such a male dominated field.
The route goes through the town centre and passes the finish line at around 8 miles, where runners who'd run the 10k were crossing the line (the 10k sets off 15 mins ahead and skips the Luton Hoo part), and there was a great atmosphere for this part. Then we had a long slog up a gradual climb (it was up and down but mainly up) for what felt like miles, but in reality could only have been two at the most. I knew there'd be a turnaround and we'd come back down somehow, I just needed to make it to the top.
The pace is on
I had seen the mile splits pop up on my watch each mile, but I had no idea what my average pace overall was. I waited until 8 miles before looking, because then I could do some rough maths to see what my finish time might be. The answer, as always, was that I had to keep running if I wanted to get to the finish, and I had to keep pushing if I wanted to be happy when I got there.
I wanted to run faster than the half I ran in February (1:42:20) but I really wanted to run a PB (1:41:48 from Cambridge, 2016). But more than that, I wanted to know I'd run as well as I could.
For the last two miles I found myself running with a tall man and I focussed on staying on his shoulder as long as I could. And then there was half a mile to go and we hurtled downhill towards the finish line in the town centre. I finished in 1:41:26, a new PB and 8th woman. Most importantly, though, I knew I'd run as hard as I could and I didn't give up.