Running from 5k to 10k – Kerry's journey continues
In yesterday's blog, Kerry wrote about how she started running. Today the story continues with how she went from 5k to 10k and beyond.
After my first parkrun, nothing could stop me. I'd signed up to Laura's Improvers group on Tuesday evenings and learnt even more from her about technique. I was running after work most days for a few miles at a time. My confidence was now sky high. So high one evening, I spoke to Laura after one of our sessions about trying out a 10k. I had seen there was a Race for Life in July and I really wanted a challenge – what better way than supporting a worthy cause?
A few days after getting my number in the post, I got an injury. I'd been coming down the stairs and I'd landed awkwardly on my foot. I was on my way to do an evening run, so I carried on with it. Big mistake. I got back and my foot started to stiffen and swell.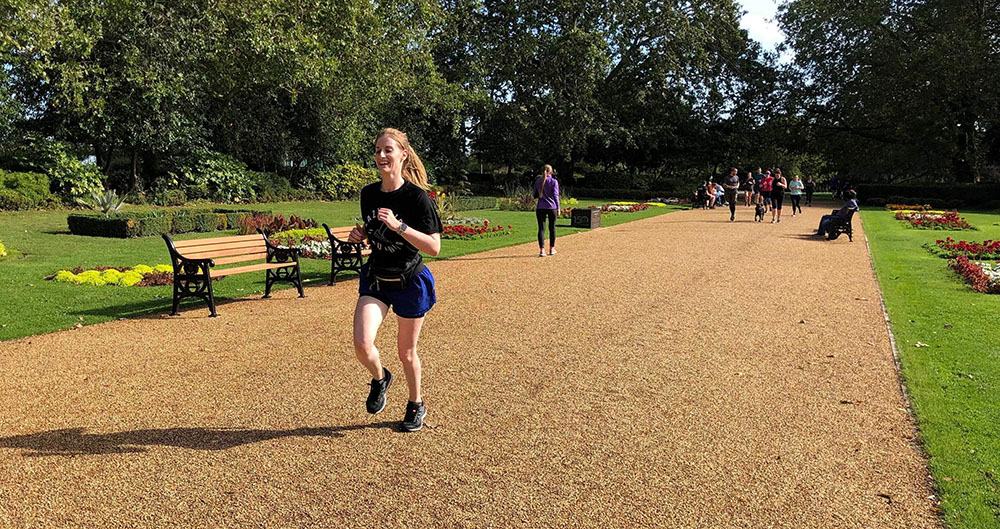 After two weeks of pain, frustration, and missed sessions, I was determined to get it better. I booked an appointment with a physio. I had a bit of shake in my voice as I explained to him how I'd started running a few months ago and how I'd now signed up for a 10k which was then in five weeks, but that my ankle had been swollen for a few weeks and I was worried I had done some damage. 
The road to recovery
He said it was a case of overuse, but he also thought I had a shortened calf on my left side. I couldn't move it very much at all and he was surprised I managed to run as much as I had. If I'm honest though, I had struggled through some calf pain out of enjoyment and the want to do more.
He did some massage and gave me exercises to do 2-3 times a day and booked me back in to see him the following week. I was so relieved to know what was wrong, I threw myself into the exercises – getting up at 6am to do them.
On 10k race day I was feeling fit and healthy, but pretty nervous of the distance ahead of me. As I walked up towards Finsbury Park I could hear the booming music and see a sea of pink outfits ready to set off in honour of Cancer Research. I'd had quite a few donations from friends and family – and they knew I was here, waiting to start.
The race was the toughest point for me yet, and I really did struggle. I went off way too fast at the start (rookie mistake!) and I was paying for it by finding myself walking within the first mile. 
Running together
I had been talking to a lady in the warm-up, who was running the 10k for her husband who had sadly passed away from cancer the previous year. She was nervous too and said that she knew it would be tough, but that she had planned to take things steady. 
I looked behind me in that first mile and saw the same lady jogging up steadily towards me. I waved at her and started to jog again as she came alongside me. I told her I'd like to run it with her, she objected saying that she would only slow me down. 'I need to go slower, I've already burnt myself out!' I said. 
We jogged at an easy pace around the course. Seeing all the messages clipped to people's backs and running alongside such a brave lady, everything else seemed to not matter. I'd got so much into the stats as newbies do – PBs, Strava achievements and average pace times are so easy to get drawn into. We finished the course together in 1hr 4 minutes 51 seconds – and that little medal will always mean so much more.
Moving forwards
I knew I wanted to do another 10k – and do it with a time in mind. I signed up to a gym and started going to 2/3 classes a week alongside my running. Bootcamp, pump and LBTs are my preferred ones now – but spinning was so useful at the start. It made my legs strong, but also gave me that mental barrier to get through in every session. I always wanted to stop, but I never did. Practice makes perfect.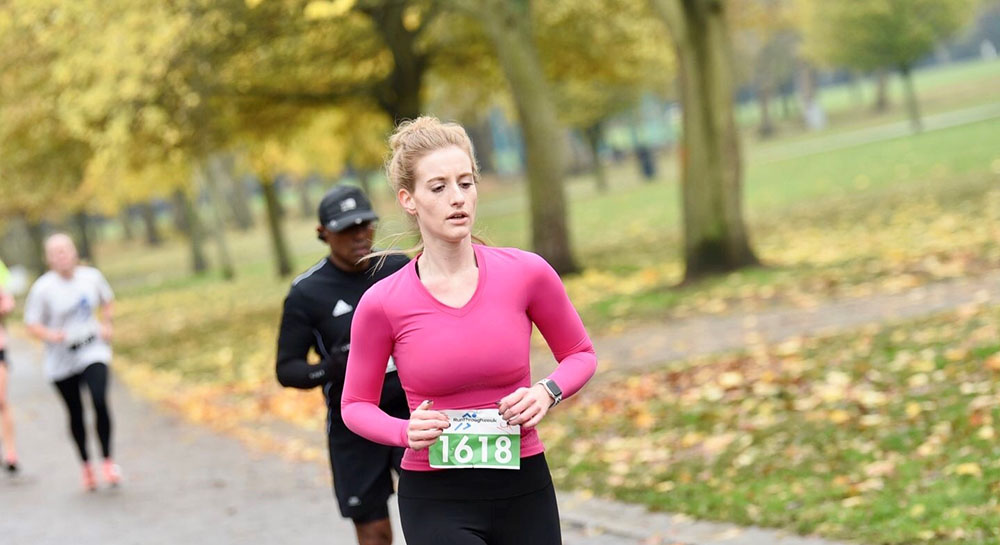 Five months on from that Race for Life and I've completed six other races with RunThrough. They have been a mix of 5k and 10ks but they've all been with a PB time in mind. I have had a few of them where that hasn't happened but my official PBs are now 5k 28:21 and 10k 58:09. 
I've had lots of support from other runners I've met from the Improvers sessions and parkruns and they've all helped re-iterate the same message: You're out there – you're doing it and you would have killed for that time a month ago. It's true, so I try not to let myself get too caught up in the numbers. 
What's next?
The next big challenge is the Vitality Big Half Marathon in March. I'm planning to start a 12 week training plan that Laura has put together for me, which runs through Christmas. Even though I know that'll be hard.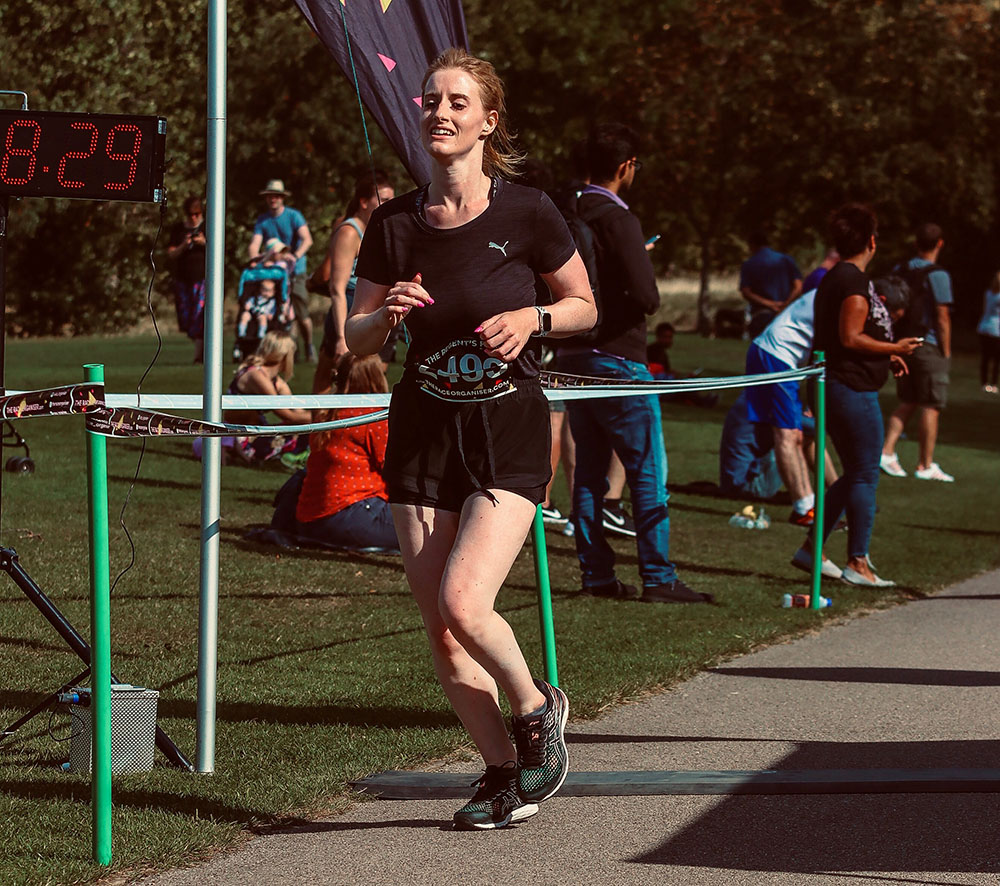 I set a time goal because I have no idea how such a long distance will feel. It's two 10ks – and that is pretty daunting as I write this. However, taking the time to reflect on my little journey, I understand how much I've learnt about running. In joining a group of Laura's, you have that structure, you have that support, you have that momentum. All you have to do is turn up and remember to smile!
There's more information on our Run Groups here. And if you want to take on your first 10k, or train for a PB, check out these training guides.