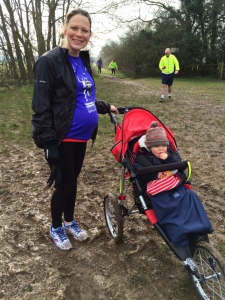 A few weeks ago I took a walk round Wimbledon Common with Kate Lewis and her son Bertie. While Bertie slept, Kate and I talked about running during and after pregnancy.
She shared her experience of running through her two pregnancies and returning to running after birth.
I mention a US athlete called Sarah Brown in the podcast and if you want to find out more about her here.
You can find Kate on Twitter and follow her return to running.
If you're pregnant or have recently given birth, please speak to your own doctor about what exercise is right for you.
Listen to podcast
Download it | Listen online | Get it via iTunes