Couch to half marathon: my sister's story
My sister, Emma, writes about becoming a runner and running her first half marathon.
10 months ago I made the decision to get fit. I have two young children and found the act of physically chasing them in the park hard work. Exercise and I are not good friends. Over the years I've tried many things with the hope I would enjoy them, get fit and hopefully lose weight. Nothing to date has suited me so thought I'd try this running malarkey.
I have always been secretly jealous of runners. People who open the door and go out for runs seem so alien to me but also fascinate me. One thing I knew was that I needed help, so at the start of the year I turned to my sister one day in my car and the words came out 'I want to do the Great Eastern Run'. There I had said it, there was no going back now the statement had left my mouth and I knew Laura would take control.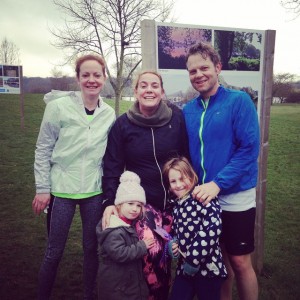 There are a few things we have in common as sisters: stubbornness, determination and moodiness are the best three. I knew that if I told her my goal she would help me achieve it. There would be no backing out now. To my surprise she replied 'no that's not what you do'. She went on to say that you start with smaller achievable goals and build up to something like a half marathon. I knew she coached beginners and I knew that I would be supported all the way.
So in January I started my 0 to 5K plan. I didn't want to start running outside so opted for the gym to build my time up. My worry was that people would see me trying to run and I would lose my confidence. I couldn't run for a whole minute which is almost impossible to remember now but those 60 seconds where really hard work.
My biggest milestone came in joining my two ten minute runs together into a whole twenty minutes. The thought I would build up to 30 minutes constantly running seemed unachievable back then. In March I did my first 5K at Peterborough parkrun where I was supported by Laura and a friend. I remember it being tough, my breathing was hard work but I completed it and wasn't last.
5k to 10k was harder but now I could do it, I could run.  I stuck to my training plan which had interval training built in (which I hated from the first week). By June I was ready to do my first 10K. This time it was a real race not a parkrun. We had chips on our trainers and numbers on our chests. It was a really hard course but, again I was support around the course with a friend. I completed it without walking and even managed a sprint over the finish line. It really hurt this time but I felt such a sense of achievement I knew I could go on to do more.
Then 10K to half marathon training began. I now knew how to listen to my body. I no longer got upset over runs not going well, days when I just could not do it and altered my training accordingly. I slipped up in my training over the summer and broke my toe but managed to get myself back on track come September.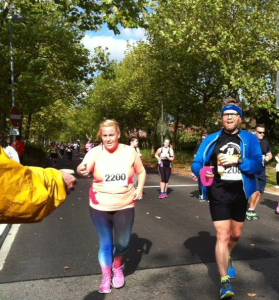 In October I completed my first half marathon. Peterborough has been my home town on and off all my life. My sister and friends always do the half marathon and I normally come out to watch. This year it was my race. Nerves kicked in the week before and I started to pray for an injury that would mean I didn't have to do the race. I was grumpy and stressed in the build-up but the gift of new running leggings put me back in the zone.
The half marathon was my toughest challenge yet. I cried at mile two and wanted to quit at miles 9,10,11,12 and 13, but I didn't. The crowd and supporters were amazing and I finished feeling better than I had after completing either of my earlier challenges.
I've always wondered why people get personal trainers or coaches. I'm not sure how other people use theirs but I found I could blame mine. Days I had to do runs, fit in runs in or didn't want to run I could blame someone else. Laura is making me do this, it was her fault and that helped. But more importantly I knew that by having someone else on my side I wouldn't be letting myself down I'd be letting them down. I am now a runner and although I'm still learning to enjoy it the key point is I can do it. I'm fitter than I have been my whole life and that is really what it's all about.
If you want to run a half marathon, break it down. Aim for a 5k and then a 10k as Emma did, and then move up to a half marathon. I have 5k and 10k training guides and a half marathon plan in the pipeline.