How to start running – Kerry's 0 to 5k story
Kerry finished my 0-5k Beginners running course last summer, and I asked her to share her experience of how to start running.
Like many people, I've always thought I couldn't run. I'd tried to start a few times, getting up on the odd Sunday, running for a few minutes at a time, stopping to walk and then never really getting started again. 
I loved the idea of running, spending time outdoors, having time with my thoughts to the back-drop of a heart-felt playlist, but I never loved the running part.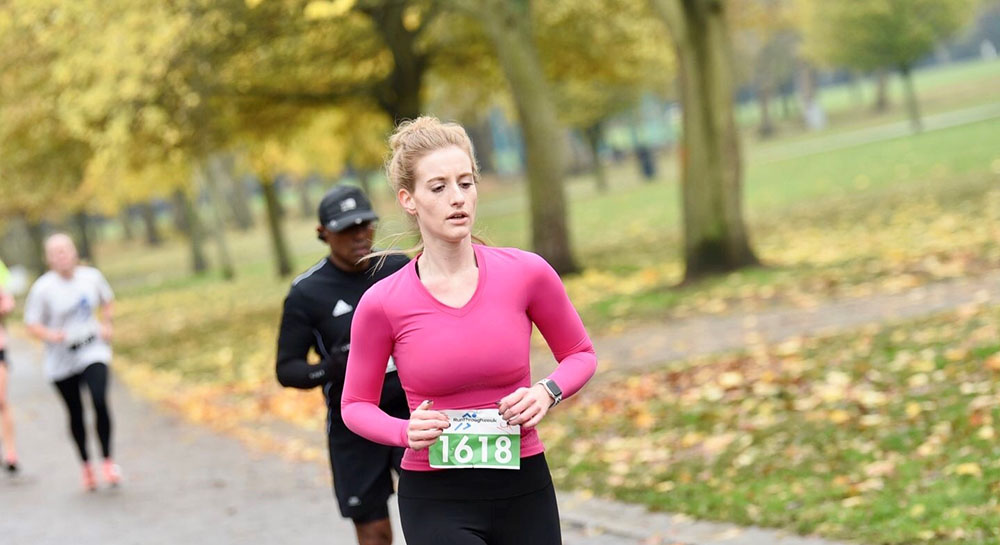 I used to see the other joggers go past me, almost gliding as they went, and think that they were different to me. They were stronger, they were fitter, they were better. And they were.
I'd spent many years in a world of bad habits, making the wrong food choices and never exercising – yet I was expecting to put trainers on and be just like them. I'd made it impossible for me to succeed, so it was.
Getting started
When I had moved to London with my sister, she asked me if I would join a running group with her. I still remember laughing, and saying 'I can't run, but if you want me to go with you I will!'
At the first session everyone was really friendly and we exchanged lots of smiles during the warm-up. The thing I remember most is finishing. Laura turned to us and announced 'You all just ran – so from now on you're all runners'. Wow, that was true – we all could do this. 
We ran a little more each week with walking breaks in between. This was my kind of running after all. Laura set us homework to repeat the same run from Saturday's group twice.
One day, my sister went over on her ankle and she couldn't carry on. As each week had gone by, I could see that I was starting to actually run – now for 5 whole minutes without stopping! What could have been a hard decision a few weeks previously was now easy. I kept going.
Getting better
Week 6 and 7 went by pretty smoothly, and before I knew it I had now done 10 minutes of running without a break. I was also getting to know the other ladies. We would talk about our week, not just of tales of homework runs, but of our work, our homes and families. Having recently moved to London, it was lovely to see the same friendly faces each week.
Week 8 is a wonderful stage in the beginner's program. Just like a hardened gambler, you take that 10 minute run and you double it and run 20 mins non-stop. Laura had warned us all the week before, so I think we all turned up with a strange sense of wanting to get on with it.
Laura called out for halfway, and I was so surprised. My legs felt strong, my breathing wasn't too laboured and I was still in a good way. 'Just the same again!' I remember thinking. 
Almost there
Week 10 was the real turning point for me. It was the week before the parkrun finale, and I finally felt like a runner. I'd started to build up a friendship with one of the other runners called Karen. We'd ended up running next to each other in a few of the sessions. When we were told we'd be running for 30 minutes, or 5k if we could, we nodded at each other and set off together.
It was the beginning of June and it was boiling hot. We were both counting down the minutes aloud to each other  – 10 minutes, halfway, 20 minutes – and then pretty much every minute after that! We heard the whistle blow for 30 minutes but we were less than 200m off 5k! We breathlessly agreed to carry on down a hill and we completed the full 5k.
We'd ran 5k in 32 minutes. Grinning to each other, we both shared that we'd have given up if it wasn't for the other being there. I genuinely thought she was finding it easy, and she'd thought the same of me.
Your mind will always want to give up at some point, even when your body can keep going. There have been so many times I had thoughts of stopping. Believe in your body – it's stronger than you think.
The parkrun
Then it was the time for the parkrun itself. I felt good after my 5k the week before – I now knew I could do that distance. Karen and I did the first mile side-by-side. Then we hit the hill. That hill is still my enemy to this day, but we'd yet to be acquainted.
I told Karen to carry on, and I walked up, taking the biggest strides I could muster. Lots of people around me were doing the same – so I felt better. When I was taking a left at the top, I started to jog again. 
I made halfway and I saw one of the marshalls stood ahead of me, smiling and clapping – and telling me to keep strong. Without thinking I smiled back, and everything seemed a bit less painful. Force yourself to smile. Your brain doesn't know if it's genuine or not – but it releases the same good-mood hormones as if you were. 
Lap two was tough. At Finsbury Park, there is a steady incline up for just under half a mile at the 2 mile stage. I managed to jog slowly up there and even passed a few walkers along the way. I remember being lapped by one of the top runners of the day, and I watched him sprint away ahead. I'd come up against another 'glider' – but this time all I felt was admiration. Now I knew how running truly felt, and I was doing it along with him (just much slower!) which made me smile again.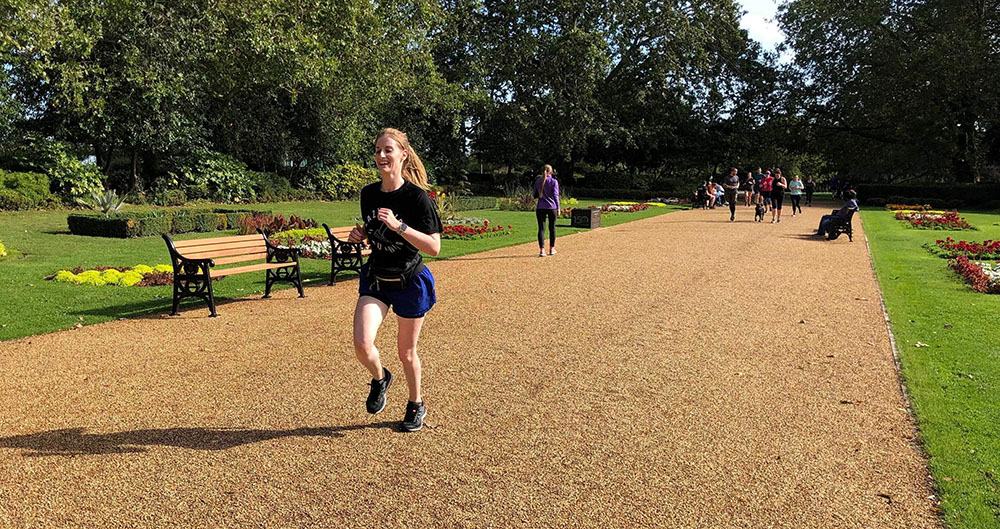 Dipping down from the incline I knew what was coming next – that hill. I got to the top and another marshal made eye contact with me as I got back into a jog and said 'you're nearly there now – keep going!' and I did.
The final sprint
I could hear cheering and I remember thinking in that moment – 'Wow, I really am nearly there!' As I turned the final corner, I could see the finishing line and people who had already finished were cheering. I remember how important it was, and still is to me. 
As I stopped my watch and went along the funnel to collect my finish token, I realised my time. 32.05. I'd walked up the hills both laps, and I had still done this course in 32 minutes. I was completely exhausted but it was my proudest moment for a long time.
I saw Karen sat down ahead of me, and I made my way to her. She'd finished about a minute and a half ahead of me, apparently she had also walked the second hill and some of the incline before. As we were sharing stories and stretched, the other ladies came through the finish.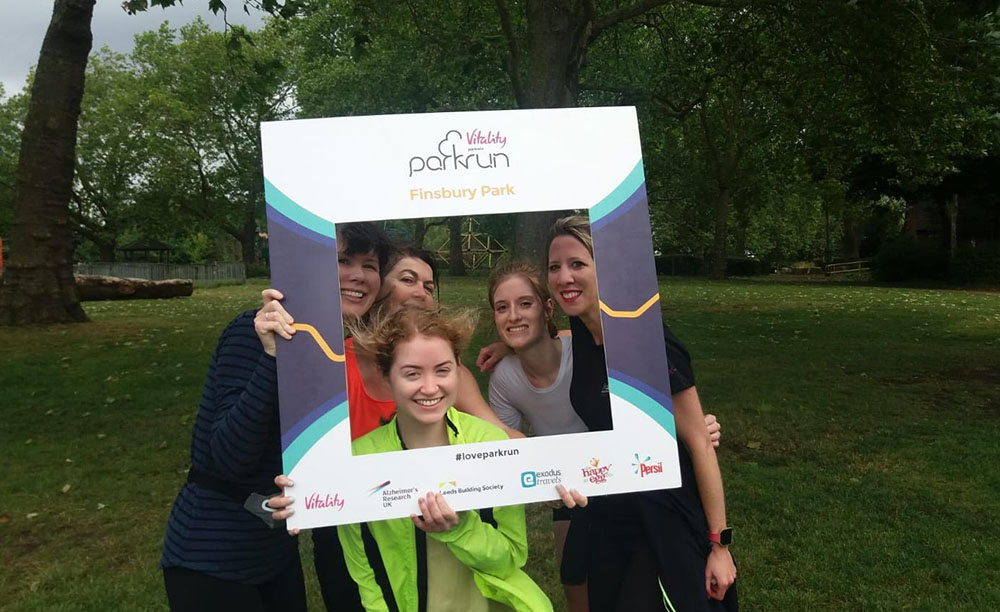 They raved as much as us about how much they had enjoyed it. We got given a Instagram cut out by one of the volunteers, and we beamed behind it for a photo!
Kerry didn't stop there. If you want to read what she did next, come back and read her blog tomorrow. If you want to join a beginners group, our next sessions are over here. Or you can read my How to Start Running guide.